Some of the laters foundations promise to make you look younger. This is quite a significant claim because some foundations can make you look older, setting
unflatteringly into the fine lines and wrinkles around the eyes and accentuating uneven areas of skin. This can be made even worse if your skin is dry and the formula is oil-free.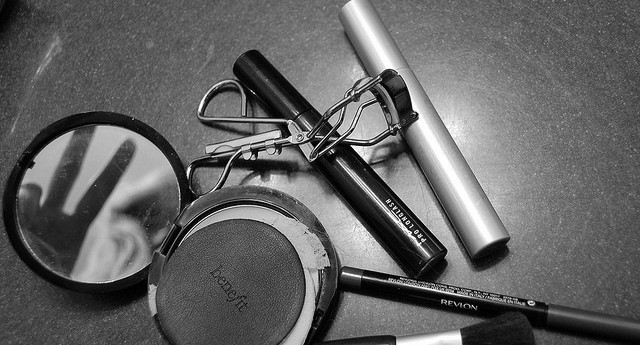 There are two approches to anti-ageing make-up and sometimes both elements are combined to give you a super luxurt treatment. the first approach is including anti-ageing ingerients, such as fruit acids, antioxidants and other skin preserving and protecting ingredients, in thefordmulas. the second approach is packing the formula with ingredientrs that gives the illusion of younger-looking skin, such as moisturizing ingredients to keep skin looking fresh and dewy and light-reflecting pigments to kelp the skin appear luminous. If you decide to use a "treatment" foundation – a formula that claims to brighten and improve the natural state of your skin, with fruit acids for example – make this your onlyt "anti-ageing" measure initally. Too often, anti-ageing novices are overenthusiastic in their use of exfoliating cleansers, serums, moisturizers and foundation, whick can overload the skin, causing sensetivity and rashes.
Many foundations will offer some protection against the damaging effects of ultraviolet light, partoicularly if they include titanium dioxide, to get any real sunscreening benefit you would need to apply the foundation evenly and thickly. If you want to protect you skin against sun damage and wear foundation at the same time, a better idea is to moisturize your face first with a good-quality sunscreen (many of the latest formulas contain an impressive ingredients list) and then apply a foundation on top.
Some concealers formulated for the under-eye area, occasionally referred to as "highlighters", can be used to create illusion of youthful, radiant skin. Apply these concealers in areas that need brighteninh: around the eyes if they look tired and pink; under eyes to conceal dark circles; or on the cheekbones and temples to help skin catch the light.
Lipstick formulas can also give the impression they are anti-ageing and in a sense they are –  dome offer SPF15 protection as well as antioxidants and other skin-improvers. However, as lipstick only too easily wears off, the only way you will really get any benefit from these formulas is to constantly reapply them. Keeping moisture levels up, whether with lipstick or a lip salve, is the recommended course of action. As soon as moisture levels drop, the skin is more likely to dehydrate, crack and develop fine lines.