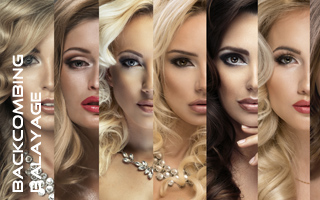 BACK COMBING BALAYAGE
Backcombing creates a perfect blend and allows you to cerate a more contrasting colour effect for more unnatural effect. It can be used in fashion colouring for the clients who want a more dramatic effect. It allows you to archieve a more ombre affect trough the ends and is perfect for archieving a 3 dimensional colour. This technique is perfect for the clients who are naturally a darker base or previously coloured hair.
The best way to archieve this affect is to start your back combing about 2/3 inches from the roots, depending on desired final image, product placement should start 2 inches from where the back combing ends and covering the entire section, then using the corners of the brush, gently brush againbst the hair shaft where the product was first placed to create a smooth transition with the hair and colour to have a soft blending result.
POINTS TO WATCH:
With this tecnique its important to get a clean back comb and reasonable sections as if not it can create unwanted bands in the hair and can produce more block colour.