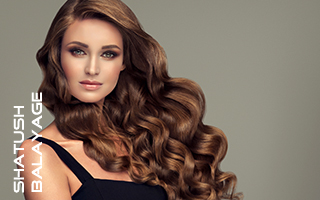 SHATUSH BALAYAGE
There are many different ways to do this style which includes back-combing root area to create a smooth blend. This style is very popular all over Europe and is great way to show off your experience with unique clientele.
Lets Break it Down:
Shatush can be used to create a fuller looking Blayage which gives you that Ombre effect on the ends or can be used to create selected pieces for the client who wants that flash of colour running trough their hair. Combining Balayage techniques for example free-hanmd colour application can give you a softer and subter effect or a Foilayage style method can increase your lifgt to enable you to archieve the more creative fashion colours. Using your back combing tecnique you can also control how much natural hair you would like to have running trough your final result, working in block sectioning allows you to remove or and any amount of hair you desire.
Sectioning:
When it comes to sectioning for your Shatush Blayage, the best way to start is with your cross section using a central division, this way your clients parting is not restricted and is free to flip and move to your clients desire.
Starting from the back, you need to take into consideration the head shape and structure on the hair cut, your first section should be on either side and at the underneath of that section, your slice should be at a diognal angle starting at he higher point around the hairline to the lower point towards the center of sectioning, each section not exceeding more than two inches thich, this varies on how natural or contrasting you wish your balayage to look. The smaller the sectionthe more natural hair is left out. Once you have decided on your section size now divide 1/3 of your section and clip the 2/3 of it out of the way As you will be applying our color to the smaller amount of hair, this is so its easier to control the amount of lift you need. Too bigger section the more chance of an unclean lift.
Color Application:
When applying color there is 3 ways to this technique:
the block effect
the V shape effecty
the full Shatush effect
Each one gives a different effect from subtle to fuller colour contrast.
The Block effect is used to produce a stronger contrast between roots and the ends but still creating a smooth transition of colour.
The V Shape effect is a more natural result, this works on the outter part of the hair to give a more sunkissed look, this is perfect for the client who wants a bold colour contrast trough the ends but want a subtler transition from the roots.
The Full Shatush is a mixture of both and is where the technique can get a bit more complex but gives you a seamless finish and allows you to highlight any facial or hair structure you desire. This tecnique also allows you to control how dense the colour is trough mid-lengths and ends; this also allows you to get your balayage to start higher up your section but still allowing you to get a natural blend. When you apply the colour you should always start halfway your section from where the back-combing ends, this allows you to reduce the amount of product on your brush for doing all important blending, tacking colour all the way trough ends making sure the hair is slighty saturated to get stronger lift. When blending use both directions of brush strokes to work the product into the hair but also making sure there is visible blend and no saturated areas trough the blend, if its not blending with the colour on then it wont when you wash it off.
Top Tip:
A slighty thicker mixture will be easier for you to blend your product trough.